Holland Scholastic Youth Air Rifle League
The Holland Rod and Gun Club hosts practices and home matches for the Air Rifle league at Holland Central Schools. Please check the club calendar for dates and times of practices as well as home matches. Last year was it's inaugural season and the youth did awesome! We hope for another great season. Below is the picture of the 2017 team!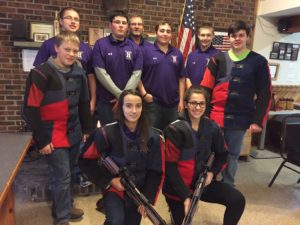 See posts below for the latest news and scores. Scores will be posted when they become available.
Whats New With The Holland Scholastic Youth Trap League?
The Holland Scholastic Youth Air Rifle league begins on Monday November 7th with the first practice. The tentative schedule is below and also on the club calendar. Please note these dates and times are subject to change. We wish the best of luck to our youth and hope they have a great season!! Scores will be posted on the website
The HHS Air Rifle league is gearing up and practices have started! Recently they have been learning how to shoot from the prone position. Good luck to everyone this season!
A photo of the Holland Air Rifle team has been posted. Click here to check it out!!! Best of luck this season!!!